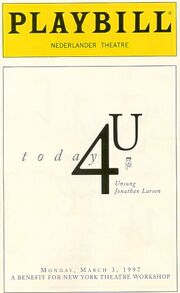 This is a non-canon article.
This article covers subjects that are not part of the main RENT canon, but are still relevant to the show and it's development.

The New York Theatre Workshop Production was a version of RENT that was staged at the New York Theatre Workshop. It was an early version of the musical.
As of 1994, the New York Theatre Workshop version of Rent featured songs that never made it to the final version, such as "You're A Fool", "Voice Mail #4", "He's A Fool", "Open Road", the predecessor of "What You Own"; "He Says", "On The Street #1-3", "You'll Get Over It", the predecessor of "Tango: Maureen," featuring Mark and Maureen; "Right Brain", later rewritten as "One Song Glory", featuring Roger; "Do A Little Business", the predecessor of "You'll See," featuring Benny, Mark, Roger, Collins, and Angel; "Female to Female A & B," featuring Maureen and Joanne; and "Real Estate", a number wherein Benny tries to convince Mark to become a real estate agent and drop his filmmaking.
This workshop version of Rent starred Anthony Rapp as Mark and Daphne Rubin-Vega as Mimi, both who would later be part of the Original Broadway Cast. Larson continued to work on Rent, gradually reworking its flaws and staging more workshop productions.
Act I
Song
Sung by
Voice Mail #1
Mark, Roger, Dave, Mark's Mom, Benny
Rent
Mark and Roger
You Okay Honey?
Angel, Collins, Maureen, Joanne
Rent #2
Roger, Mark
You're A Fool
Mark, Roger, Collins, Angel
Do a Little Business
Benny, Mark, Collins, Angel
Female to Female
Maureen, Joanne
Come to the Meeting
Mark, Angel, Collins, Roger
Right Brain
Roger
Light My Candle
Roger and Mimi
On The Street
Homeless
Voice Mail #2
Maureen, Mr. and Mrs. Jefferson, Joanne
Female to Female B
Maureen, Joanne
Another Day
Roger and Mimi
On the Street #2
Company
Santa Fe
Angel, Collins, Mark
I'll Cover You
Mark, Collins and Angel
You'll Get Over It
Maureen and Mark
Christmas Bells
Company
Over the Moon
Maureen
La Vie Boheme
Company
AZT Break
Collins, Angel, Maureen, Joanne, Roger, Mimi
I Should Tell You
Roger and Mimi
Act II
Song
Sung by
Voice Mail #3
Benny and Secretary
Seasons of Love
Company
Out Tonight
Mimi, Maureen, Angel, Joanne
Seasons of Love B
Company
Voice Mail #4
Maureen
Without You
Maureen and Joanne
Voice Mail #5
Collins, Angel
Contact
Company
I'll Cover You B
Collins and Company
Goodbye Love
Mimi, Roger, Benny, Maureen, Joanne, Mark
Real Estate
Mark, Benny, Alison
Open Road
Roger
Voice Mail #6
Roger's Mom, Mimi's Mom, Joanne's Dad, Mark's Mom
On the Street #3
Homeless
Rent #3
Roger and Mark
Finale
Company
In this version Maureen was HIV+.
Many of the songs featured were either cut or rewritten for the Broadway version of Rent.
Community content is available under
CC-BY-SA
unless otherwise noted.