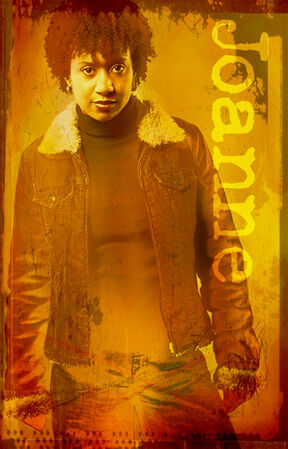 Joanne Jefferson
is one of the main characters in the musical RENT .Joanne is a An Ivy League-educated public interest
lawyer
[[|[17]]]
. Joanne is the woman for whom
Maureen
left
Mark
. Joanne has very important parents (one is undergoing confirmation to be a judge, the other is a government official.)    
Potrayers:
The role of Joanne was originated by Fredi Walker-Browne in the New York Theatre Workshop production, who transferred with the production to Broadway in the spring of 1996. After Walker-Browne left the show, Gwen Stewart, the original Seasons of Love soloist, took over.
Tracie Thoms first portrayed Joanne in the 2005 film version of the musical, after Walker-Browne concluded she was too old to reprise the role. She went onto close the production on Broadway in 2008 and can be seen in Rent: Filmed Live on Broadway and played Joanne once more in Neil Patrick Harris' star-studded 2010 Hollywood Bowl staging.
Kirstin Craggs portrayed Joanne in the Ending HIV Season of RENT, in New Zealand in 2018.
Musical Numbers
Rent
Tango Maureen
We're Okay
La Vie Bohieme A
La Vie Bohieme B
Season of Love
Happy New Year A
Happy New Year B
Take Me or Leave Me
Season Of Love B
Contact
Goodbye Love
Finale A
Finale B